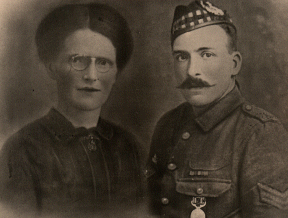 My grandfather with my grandmother.
The following article is one that he himself wrote of his experiences in the Boer War. I think he must have been giving an account at a local meeting of the Mutual Improvement Association (MIA) which he attended.
South African Experience
I beg leave to crave your indulgence, to relate to you some of my experiences in the late Boer War.
I have been frequently asked what made me think of going out to South Africa. Well, I believe it was partly due to my being a member of the last M.I.A. (Mutual Improvement Association)
As a member I thus had access to the shelves of the Library and I took from them such books to read as Darkest Africa, and Lord Clive in India. The stirring tales of his heroic defence of Arcot, and other thrilling incidents imbued a spirit in me to see such things as they were told in those books for myself.
Ever since the Jameson Raid I had watched the trend of events in South Africa.
On the call of Her Majesty's Government for volunteers to serve in South Africa, I felt that now was the opportunity for me to see a bit of the World. I immediately sent in my name to the headquarters of the corps to which I belonged. On the 16th January 1900 I was accepted - after being medically examined - for active service.
During the month we stayed in Aberdeen and we were drilled daily. On 16 February at 2pm we left the Granite City, and arrived at Southampton the following day and thence embarked on the SS Guelph.
At 4pm we got under way, and as we steamed off a faint hurrah rose from our decks, when a cornetist on shore struck up "Auld Lang Syne" and "Will ye no come back again". We were now gliding smoothly down the placid waters on the channel through the beautiful and ever receding scenery - on both sides - scenery calculated to call forth the most lively emotions on leaving it for an indefinite period, especially when we try to realise the fact that there are many amongst us who will never look upon their native land again.
As we gained the open sea the ecstatic and enthusiastic spirit which had previously pervaded the men seemed to die down into a prosaical manner. Before ten o'clock a hammock and two blankets were served out to each man for the voyage.
The ship was now rolling terribly and most of us began to feel uncomfortable qualms, which, however, did not become fully developed till bed-time - and then the scene was changed.
Next day we were into the Bay of Biscay. It now blew a perfect hurricane. For two days the hatches were battened down, only a small hole being left to crawl out at on to the deck, and whenever we did so the big waves that sometimes broke over the decks drenched you to the skin. The sailors called it a head wind, and as I saw the passengers and Messrs Aitkens holding their heads over the side of the ship, with objects otherwise than viewing the scenery from that altitude, I at once saw the aptness of the term.
There were on board 7 Companies of Volunteers each 116 strong - all English but ourselves, 40 nurses of the Red Cross Society, 100 passengers and about 100 of a crew, in all 1052.
Our first port of call was the island of Tenerife, where we took in a supply of coals and water. After the anchor was lowered, we were immediately surrounded by small boats, the owners of which tendered for sale oranges, tomatoes, and a variety of other fruits, tobacco, cigars etc, in which they seemed to do a roaring trade.
As soon as we took in our provisions, we set off and in four days crossed the line, in another four days we dropped anchor at St Helena, where we discharged part of our cargo and also took in a supply of water, and seven more days sailing brought us to Cape Town.
During the voyage there was no lack of amusements aboard ship. We had a great variety in musical instruments including the bagpipes, buglers, flutes, a piano and last but not least a band composed of - the tin whistle, a comb covered with a piece of paper, and an empty tin for a drum, which in our part of the deck rendered splendid selections. Throughout the day we often had athletic sports.
When we dropped anchor in Table Bay at 3am on the 14th March a magnificent scene was presented to us, hundreds of steamers, brilliantly illuminated with their electric lights, lay at anchor in the bay, ready to discharge - some of them - their living freights of Tommies, others with munitions of war.
All on board were early astir, eager to catch the first glimpse of Cape Town. The view of the town, lying between Table Bay and the northern base of the steep and massive flat topped Table Mountain, about 3500 feet in height, is very grand on approach by sea.
For two days we lay in the Bay waiting our turn for disembarkation.
Our first night on terra firma we were entertained by Cape Aberdonians at a smoking concert, and with song and sentiment we spent a very enjoyable evening. The chair was occupied by Dr Gill, Astronomer Royal, and a distinguished Aberdonian.
The following night I explored Cape Town. The finest buildings are the Parliament Houses. Public convenience and comfort are provided for by spacious markets, electric and gas lit thoroughfares, electric tram cars, cabs, the grinning kaffir with his jinrikisha, and by the beautiful Government gardens in the heart of the town, which serves the purpose of a public park. There is a fine oak avenue, extending for three quarters of a mile through the gardens.
Next morning (Sunday 18th March) we got orders to pack up our kits as we were to proceed up country immediately. At 10am we left Greenpoint Camp, and marched to the station in Cape Town, just as the people were going to Church. At the station we were served out with 100 rounds of ammunition per man.
For two days and nights we travelled on until we reached Naauio Poort - an important railway junction, but which possesses little claim to be called a town, only a strip of corrugated iron houses on each side of the railway. But, on our arrival, it was the seat of the principal base hospital in line of Lord Roberts' advance, and at this stage it contained over 800 sick and wounded men, while near by there was a special ward constructed of corrugated iron, where a number of Boer prisoners were lodged. And I may add we were all very eager to get a first glimpse of our brave enemy.
We enjoyed our journey by rail immensely, for we were fortunate in being provided with carriages, instead of cattle trucks, as the most of the troops had had to travel in. And now while we are here, I will attempt to give you an idea of what the country we have passed through is like. As seen from the carriage windows, all the way up, it is a dreary sameness. You get to rest the weary eye but in amongst the flat topped hills and mountains, which stand out grim and bare without a kindly tree or bush to cover their rugged outline. While crossing the Great Karroo, with nothing but bushes, not even a blade of grass to be seen, is a dreary enough prospect to a traveller, and yet these Karroo bushes are said to be of great value to the farmer; and where you suppose you are passing through a barren wilderness, you are in reality surrounded by large sheep farms. It is not a sandy desert, but during nine months of the year when rain does not fall, it has a parched and barren appearance. After rain its rich red soil is covered with a thick carpet of grass and flowers.
The railway, a dirty three feet gauge one, has not been made for the comfort of the traveller. The carriages are about the same width as they are here, so you can understand that they project a good bit over the rails and when you are running at any speed you get a nice swinging sensation. There are not many cuttings and very few embankments, and we had often to ascend a steep gradient at a walking pace, and sometimes stuck up altogether. I have seen the drivers often make two or three attempts to get up. But they stuck to the good old motto - if at first you don't succeed, try! try! try again!
For two days we stayed at Naauw Poort. On the 23rd March when orders were read out, we were delighted to hear that we were to proceed on to Norvals Pont, on the borders of the Cape and Orange River Colonies. At 11am we entrained and, during our forty miles journey to this place, the havoc the Boers had wrought was apparent on every side; rails were lying twisted, and all the culverts had been blown up; while the magnificent bridge of thirteen spans that crosses the Orange River had five of its centre arches destroyed. At this place we were daily employed at the temporary service bridge, which the engineers were building a little below the old one, for the purpose of getting supplies across the river by rail for the troops in Bloemfontein. A feature of the modern warfare was to be seen in operation across the destroyed bridge; in the shape of an electric aerial tramway, which was transferring bags of sugar and oats from one side of the river to the other. A little further up the river there was a third bridge for troops and Transports. It was called a Pontoon Bridge, which is a temporary construction to facilitate the passing of rivers by troops. Those over a river are generally floating. First of all, flat-bottomed, rectangular boats, open at the top, are placed in the centre of the river usually from 10 to 15 feet apart. They are fastened across stream by means of anchors and stakes.. Caskes are used at the outer edges and roped together. Planks are then thrown across and covered cross-ways with others of lighter material.
Well G - it is a common saying with the people of this country - that Sunday is often their busiest day. I will therefore try to describe the way I spent my first Sunday at the front. We were employed making a road down to the Pontoon Bridge. We started work at 5.30am and left off at 8am for breakfast. By 9am we were hard at work again and did not leave off till one o'clock. An hour later we were toiling on and did not stop till 5pm.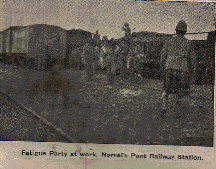 A soldier's duties are varied and many and road making on Sunday is by no means one of the best. One night about 10pm we were aroused out of our slumbers and marched down to the newly completed railway service bridge, to draw wagons across and up a stiff hill on the other side. I may explain why we were employed as engines on this occasion; on approaching the river there was a steep descent, and on the other side a steeper ascent. Well to get down this incline to almost the level of rails described an almost half-circle, and owing to its faulty construction and the sharpness of the curves, the ordinary iron horse refused to keep the permanent way. We were kept hard at this work until daybreak. The freights of the wagon consisted of provisions for the troops occupying Bloemfontein.
We had now been six days at Norvals Pont, and each day brought fresh arrivals of troops, and we now had quite a large camp composed mostly of Highlanders. We were now called the 2nd Provisional Battalion and were about 1400 strong, composed of Seaforths, Argyll and Southern Highlanders and Gordons all under the command of Lieut. Col. Burney of the 1st Gordons.
On the 29th March, we bade adieu to Norvals Pont, bridge building, and wagon hauling, and started our trek for the capital of the Orange Free State. We happened to be the leading company and as no volunteers were as yet north of this place I think we can rightly claim the honour of being the first Service Company of Volunteers to march into the enemy's country. After an eight miles march we reached Donkers Poorte. There we camped for the night.
As no transport was along with us, we carried the whole of our equipment, including our greatcoat, which was rolled and carried on the waist belt at the small of the back, one blanket and waterproof sheet, rolled and carried on the back just in line with the shoulders:- in all about 60 or 70 pounds. But this did not take into account any personal belongings which you happened to have along with you.
Next morning we marched off at 6am through a very hilly district, carrying our entire kit, as we had done the previous day. From this point on there was not even an apology for a road, simply cross-country, and we skirted huge kopjes to find no possible path, making circuitous detours over a broken and rough plain, with numerous pitfalls for the unwary feet. At noon the heat was very oppressive, and a good many fell out, but the majority strode along with an easy swing from the loins, ignoring every difficulty that came in their way. About 3 o'clock we were halted, and a rumour gained currency that we had deviated from our intended route; latterly this proved correct as we traversed part of the same ground over again, and at last reached Priors Siding, where we camped for the night, covering in all a distance of some 25 miles.
Two other marches brought us to Jagersfontein Road Station. Here disquieting rumours were afloat in camp that some 1500 Boers had detached themselves from the main body and were hovering around our vicinity. That night we lay with our equipment on and our rifle close by our side, and at 4am we were aroused and ordered to fall in as quickly and quietly as possible; all orders were issued in whispers which sent a thrill of inexpressible emotion through one's body. We then stole out of camp and moved along in a dreary spectre-like procession to our appointed positions and there lay prone on the ground, hearing nothing! seeing nothing! and at dawn returned to camp. Orders were read out that no man was to leave camp without his rifle and ammunition. I went down to a stream half a mile away for the purpose of washing a shirt and a pair of socks and all the time I had my rifle lying by my side. For four days we camped here. Our next move was to Krugers Siding and thence on to Edinburg. Here the Dutch populace were very hostile, and plainly told us they would never be loyal to the British Crown, and that they intensely hated the Rooniek. An individual who had taken the oath of neutrality and handed over his rifle and bandolier was afterwards found to possess a mauser and two boxes of ammunition buried in his garden - such was the deceptious nature of our enemy.
Other three days' marching brought us to Kaalspruit within 10 miles of Bloemfontein. Here we experienced one of the worst thunderstorms that I ever had the misfortune to be out in. We had not tents, we just lay out in the open air, and when we were not sleeping, we were star-gazing. About 10 o'clock on a very calm night, the wind suddenly came hustling up, and dark clouds gathered, making night darker, and soon a storm broke out in all its fury. The vivid lightning and crashing thunder was accompanied by torrential rain, and soon our camping ground and wide expanse of veldt was lying under sheets of water. Vast stretches of horizon were lighted up again and again by the vivid lightning. Bushes and trees assumed all sorts of fearful shapes, and ghostly-looking kopjes appeared in the dark outline and then disappeared. Torrents of rain poured down on us and with only one blanket and a waterproof sheet we were soon wet to the skin and lying in two or three inches of water; you may judge we were not very comfortable. About 12 o'clock all were astir, gathering wood and kindling fires. We sat down beside them with our blanket round our shoulders to get what warmth we best could - trying to make the best of the advantages of the army.
When dawn broke, the scene in camp was almost indescribable, rifles, water-bottle, haversacks, blankets and equipment lay scattered in all directions, in dark blue pools of water. Wringing kilts and blankets was the order of the day. Everyone had a wretched looking appearance - this was very unfortunate, as we joined our line Battalion in Bloemfontein that day - the 1st Gordons under the command of Colonel MacBean. From Norvals Pont to Bloemfontein we had marched 130 miles in 11 days.
Our camp lay about a mile to the west of Bloemfontein, which place lies at the foot of a low ridge of kopjes standing in the centre of a large plain, also bounded on all sides by other hills.
The day after our arrival on camp we were inspected by General Smith Dorrien. He said a few words of welcome and told us we were the first Volunteers to join his brigade, the 19th in the q Division under General Ian Hamilton.
During our week's stay in the capital, we were placed under Captain Cameron of the regulars for special instruction in field work. While not at drill, we were on fatigue duty at the station, unloading wagons of tinned beef, boxes of biscuits, bags of sugar, oats etc.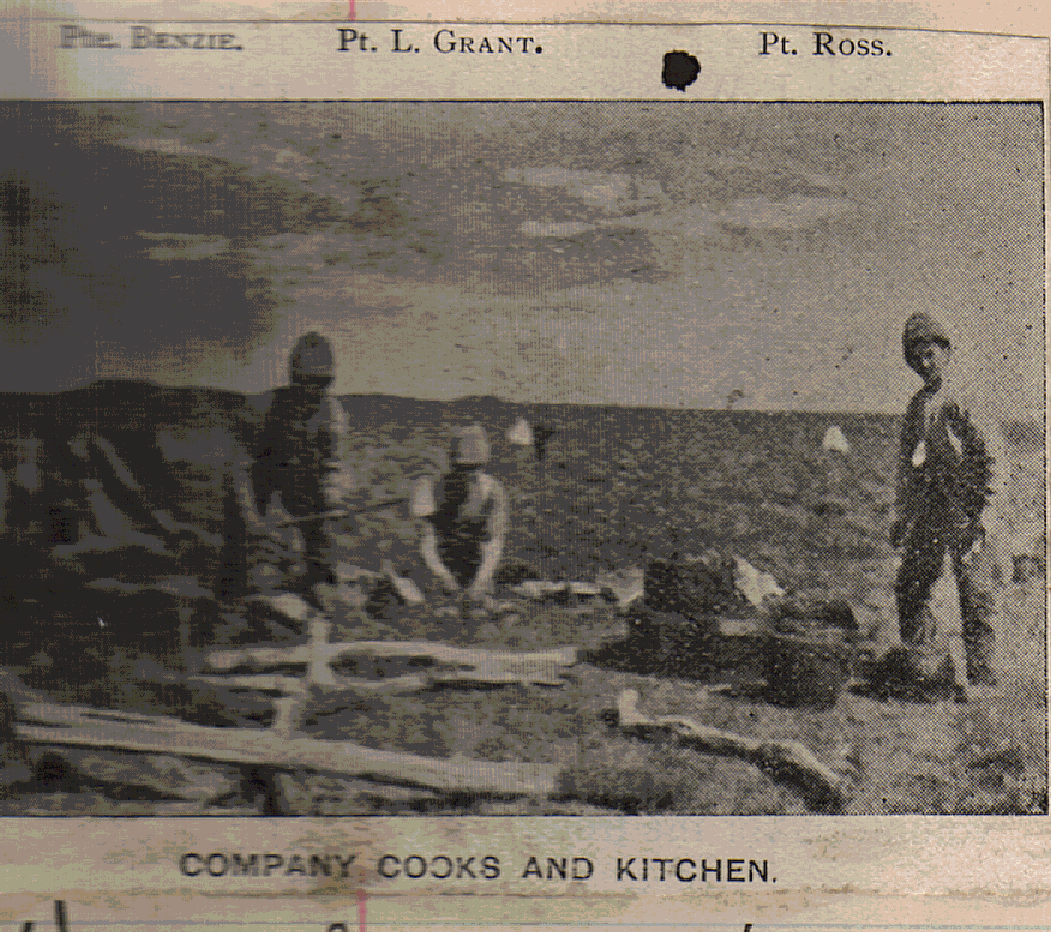 On the morning of 20 April a gruff voice shouted into our tent, parade at 6.15 for medical inspection. Afterwards we learned that that medical inspector was for the weeding out of the fittest of the men for Lord Roberts sweeping northern advance.
Next morning we got orders to pack up everything as we might move off at any minute. About one o'clock we paraded and were inspected, afterwards receiving 50 rounds of ammunition bringing up our total to 150. Then we moved off down past the station and away in an easterly direction. An eight miles march brought us to Springfield, where we barracked for the night. Boers were reported to be close at hand and next day we only moved on 4 miles. Away to our right front the sound of big guns told us that part of our force was heavily engaged.
On the 23rd of April we camped beside the Bloemfontein Waterworks, and close to the Boers position. Next morning at dawn we crossed the Modder River, near Sannas Post, where a great disaster occurred to our troops only a few weeks before - all that was left to tell the tale of that deplorable occurrence were a few dead horses and cattle, fragments of shells, and little piles of empty cartridge cases, behind an ant-hill or anything that had afforded shelter. Still further on the enemy could be seen flitting about amongst the kopjes in front, but a few shots from our artillery sent them off on the run. On and on went the long lines of undulating khaki figures. Bang! Bang! A couple of projectiles tore overhead and burst amongst the advancing infantry. Now we had received our "baptism of fire". I never shall forget the sensation that thrilled through my whole frame on hearing the high whistling noise overhead, and the reverberating crash, as the shells burst in rear of us. Meantime our guns played beautifully on the kopjes in front, driving the Boers back to another ridge, and, advancing on their abandoned position there we camped for the night. There were no casualties in our regiment. The following day the Volunteers found themselves on baggage guard; in rear of the long column which was filing across the veldt, towards a precipitous double line of kopjes running parallel with the road by which we were advancing. About 10am our artillery opened fire and shell after shell dropped all along the face of the kopjes the Boers held. In the afternoon we were extended along the left flank of the convoy, and after we had completed our proper alignment we lay down. From this position we had merely to watch the development of the fight, and the effect of every shell lyddite and shrapnel was plainly visible. Meanwhile the infantry were slowly pushing to attack in front, and the mounted troops were gradually enveloping the Boers' right flank and threatened their rear - at which they gave way and retired on Thabanchu. After dusk we reached Israels Poort, a narrow neck or pass between the hills and there we camped for the night. Next day without further fighting we entered Thabanchu.
Our camp here was surrounded on three sides by very high hills, yes, and by the wily Boers too. And they kept us rather lively by dropping unsolicited and occasional shell amongst us. One night after most of us had gone to sleep, we suddenly got the order to "fall in". In about 15 minutes the whole Battalion was on parade. The Officers explained to us that a party of Kitchener's Horse had got hemmed in and that we (1st Gordons) were to try to retrieve them. We were not to strike a match or make a noise, and in the event of being fired upon we were to lie down flat upon the ground, and thus we set off. Shall I ever forget that night, as mile after mile in the darkness among great hills, rocks and defiles, we dragged ourselves along without seeing friend or foe. Just before dawn we halted. It was bitterly cold and we were told to take off our blankets and lie down, but most of the men were soon sound asleep - without troubling to do so. In the evening we arrived in camp after being away for 24 hours, and had marched about 21 miles without food or water. We were disgusted to learn that Kitchener's Horse arrived in camp two hours after we left. I don't know who was to blame for this; it is merely an incident of warfare, and I shall let it remain so.
On the 30th April we were early astir and got served out with two days rations, an indication of two days marching or fighting. A little before 6am we marched off in a north-westerly direction to try and cut off the Boers retreat north on Winburg. The Gordons were advance guard, and after a march of some 10 miles we were halted for a short time. Then we and the Canadians were despatched to attack the right of the enemy position - a huge precipitous flat topped mountain called Thaba Hill. We were extended to six paces apart. Glancing to the hills some three miles off to our right, the smoke of a
Creusot gun could be seen wafting into the air, and suddenly a shell came whizzing overhead at right angles and burst on the left of the Volunteer Company, followed by another and another of those death screeching pills. Then the bullets began to ping! ping! indicating that we were into the midst of the fight. After taking cover in a dry river bed for a short time, we again pushed forward and reached the foot of the hill. The leading Company of the Gordons were scaling the hill, taking advantage of every available shrub or tuft of grass to facilitate their ascent. The guns were now booming on both sides and shells were whizzing and banging in all directions. Now the real sport (if one could call it sport) had begun, dodging the shells and the blinding debris thrown up by their impact. At sunset an order was passed along for M Company (the Volunteers) to bring boxes of ammunition up the hill to replenish the empty pruckes of those in the firing line. It was no easy task to scale those rocks where little or no foothold could be had; we climbed from shelf to shelf, often pushed or dragged by our comrades until thus we reached the top. An almost incessant fire was kept up by both sides until darkness closed in, after which we were ordered to move to lower hill on our left rear, with instructions to hold it at all costs. On our new position we had to entrench ourselves by building sanger with stones, and digging trenches with our bayonets, to protect us against a surprise attack. Sentries were posted in front, and we lay down to rest, on the top of Thaba Hill with and intervening space of 100 yards twixt Boer and Briton. A cold icy blast was sweeping across the mountain penetrating the body through and through rendering sleep impossible; such is the stinging nature of a South African nightly wind, after exposure under a blazing sunshine throughout the day.
All is quiet before dawn, except the soft zephyrs that stir the veldt in its sleep, and the hoarse croak! croak! of the frogs down below. The sentry on duty is alive to the situation as he gazes into the impenetrable gloom, grasps his steel tipped rifle, the blood thrilling through his veins, and dim visions begin to float before his eyes. Such are the feelings of a soldier on his lonely vigil, before the sun has graced the land. But our meditation is broken. Hark! Buck up! buck up! go the mausers, and the singing lead speeds overhead or strikes the boulders in front painting them with a bluish film. Then a sharp ripple of Lee-Metford's reply to the challenge. With the first glare of sunshine the big guns join in the melee, showing that hostilities had again commenced in earnest. We were steadily though slowly gaining ground, half a company under Captain Towse unfortunately got surrounded and were called upon to surrender but a volley was the reply, placing the leader hors de combat - a Russian in command of the foreign legion opposed against us on Thaba hill. After this little incident the foreigners fled, and with them the whole of the boer force. There were about 26 of the enemy killed. I helped to collect five - all foreigners. One of them, presumably of German extract, was attired in blue tunic, white knee breeches, and yellow leggings. That night we bivouacked a couple of miles north of the hill, where we were joined by Broadwoods Cavalry and Bruce Hamilton's Infantry Brigade. For 7 days we had fought out of 10 and had cleared the Boers out of their strong positions they had held amongst the hills round Thabanchu. On the 5th May we entered Winburg without any opposition and in another 4 days we camped on the south Bank of the Sand River. A party of Boers about 400 strong held a line of kopjes (called Bloemplatts) running parallel with the river on the north bank.
On the morning of May 10th a typical Scottish spring morning, a cold and clear frost air saw the army early astir, packing up kits and getting equipment ready before breakfast. The briefest of ceremonies breakfast, when "something is in the wind", a biscuit and a pint of coffee the only fare. Then a hasty donning of the dingy weather-worn equipment. Between us and the enemy is the river flowing in a westerly direction to join the Vet. Both banks were closely covered with prickly trees and long grass. Suddenly the well known voice of a 4.7 naval gun opened the show, followed by another and another. The big guns hurled forth their salvo of destruction inviting the lesser ones to join in sport. The Boers made an excellent reply, right amongst our line of 12 pounders, their shells dropped and burst hiding them altogether in a cloud of dust; but before it could die away, a red flame burst out which told that the smothered pieces were counteracting the blow. Meanwhile Bruce Hamilton's brigade had crossed the river, and the dark forms of the Camerons' kilts were plainly seen, hidden away in the wooded and grassy slope on the opposite bank. About 8am the order for us came to advance. We extended to six paces and marched through between our batteries of artillery, down through the prickly bushes to the river, and waded through and up on the other side. The shells of friends and foes were now screeching and whistling overhead. The whole line of kopjes were subjected to a searching and accurate shell fire, little puffs of white smoke burst out all over the kopjes; which caused great fun in our ranks when you saw any living object rushing out amongst the flying debris. Lord Roberts was on our left - we could see the balloon with his column up surveying and French and Hutton on his left - a frontage of 14 or 15 miles. Darkness descending the Boers fled, and we bivouacked where we stood and then marched on to Ventersburg Road next morning. Our next move brought us to Kroonstad where we halted for two days. Here we were inspected by Lord Roberts and his staff.
We often had to go out on foraging expeditions on search of fire wood. One day we made for a farm house in close proximity to camp. In an outhouse to our great joy we found stored away in a dark corner a few sacks of mealies and later on a coffee mill. We fetched the mill and some mealies along with us, and as soon as we reached camp, grinding operations were started and in less than half an hour we had the mealies made into porridge and I may add enjoying what we call at home "hen's meal". On many occasions after it formed a diet most acceptable when men are hungry.
From Kroonstad to Lindley and thence on to Heilbron we kept close on the heels of the enemy, skirmishing all the way with their rear guard. After leaving Heilbron a change of tactics occurred. De Wet's command and a number of others broke off from the main body and they for two or three days kept up a running fight with our right flank and rear guard.
On the 25th May we reached Vredeford Road where we crossed Lord Roberts' front, on to his left flank, and were now called the Johannesburg Column. For eight hours we lay watching the main army pass. First came mounted troops, then infantry, the artillery and balloon section, followed by infantry in their thousands. Then came the transports, four or five lines running parallel to one another across the veldt, came on in an unending stream. Gentlemen the scene will never fade from my memory. Never before, at any time has Britain sent forth such an army to fight her foes. Every branch in the service, and every Colony in the Empire was represented.
The next day we crossed the Vaal River and camped close beside it. In the evening most of us had a bath in its waters - the only clear running stream that I have seen as yet in the country. It is a delusion when we sing the song:-
Where Afric's sunny fountains
roll down their golden sand.
I have never seen the sunny fountains nor the golden sands. For the river too frequently assumes the appearance and consistency of pea soup.
Other two days' marching brought us in sight of the great gold mines. On the 29 May at 7.30am we moved off as advance guard and had along with us two 5 inch guns. French's cavalry had been held up for two days and his guns were outranged. Early in the morning we could see a lot of long chimney stalks in the distance like a big manufacturing town. These we were informed were the gold mines on the Rand.
Firing was going on all along our front and it was evident the Boers were making a firm stand. About 3pm we were halted behind the crest of a low ridge.
The Officers commanding companies were called out and got a few instructions regarding the plans for attack. Suddenly the two heavy guns we brought up opened fire, and sent shell after shell into the ridges the Boers held about 1500 yards in front.
French's cavalry retired and moved off to attack the flanks of the Boers' position, and shell after shell burst right amongst them in all directions. Bruce Hamilton's brigade had moved up on our left and the Canadians on our right.
We got orders to advance and extend to thirty paces apart. The volunteers were the 3rd firing line in the attack; thus we moved across the open veldt. In five minutes we were within range of the screeching mauser bullets, comrades began to fall on every side, as we rushed up towards that leaden hell. The veldt was now on fire on all sides, and there we lay waiting the order to rush through that torrid zone of burning grass. At last it came, we hurled ourselves against that imperforable looking line, leapt through into the bare black veldt. Most of us had our legs burned and our hair singed. Oh that last five minutes! As we lay amongst the roaring and crackling grass, thinking we would be devoured alive in that inflammable substance. Think, my friend, how it must have been for men, heavy burdened, without sleep, or proper nourishing food - exhausted after a twelve miles march - to face a shower of screeching bullets and screaming shells. Men were now falling fast, as the khaki showed up against the blackened veldt. Private Young, my left hand man, fell forward with a crash and outstretched arms to the ground. I rushed across and knelt down beside him to inquire the nature of his wound, but was unable to learn, he was so greatly stunned. In an instant the bullets were lighting all round, blinding us by the vortical of leaping dust. I was awakened to a sense of my duty by hearing the bagpipes playing the charge. I therefore fixed my bayonet and rushed on towards that death looking goal. The Boers retired about 100 yards to their main position and we lay down and opened a heavy rifle fire upon them. The shells from our guns were whizzing overhead and bursting a few yards in front amongst the Boers manning the heights of Doornkop. They seemed to be clearing the way for the lads with the kilts and khaki aprons; who lay, prone figures, on the open ground, others behind a friendly boulder, grasping their rifles with fixed bayonets ready to rush that (at first thought) indomitable fortress. It was impossible to look up at the position the Boers held: so terrible a fire was crashing from it. To raise one's head was the signal for a hundred bullets. It seemed safer to keep down, and in any case there was not much to see. Only some grey rocks, and the tops of a few slouch hats over them, dimly seen through the smoke of the bursting shells. I lay for a short time beside a man who was shot through the ankle, and asked if I could do anything for him. "Oh yes, take off my blanket and cover me with it, as I may have to lie here all night". He also wanted his pipe and matches - such were his desires amidst the awful carnage. The order to charge came at last; as we drew near many of the Boers leapt from behind the rocks and could be seen against the sky, wildly firing from the very midst of the bursting shells down on the advancing Highlanders. With one wild cheer the Gordons will take it and the Boers fled in all directions, as we pressed home the charge. The last stand was over. With the capture of Doornkop the key to Johannesburg was won.
About 200 Boers were killed. With my own eyes I saw an old man lying over a rock grasping his rifle, his last real contortion turned to marble.
General Ian Hamilton came galloping up and in an impassioned speech gave us great praise for the way we behaved and also said "by tomorrow night Scotland would ring from end to end with cheers for the Gordons". Gentlemen it was a weird scene a General addressing his men by the light of the burning veldt. That night we bivouacked where we stood, no water was to be had, and we had had little to eat all day. After the roll was called, 100 of the regiment were found to be amongst the killed and wounded, 20 of the Volunteers - including our three Officers. We were left behind next day to bury our dead, 20 in number, the rest of the division moving on to Florida, a small town near Johannesburg. When we marched into camp in the afternoon the 19th and 21st brigades stood to attention and three rousing cheers broke forth from thousands of throats in honour of the part we had played in the fight the day before. The Canadians were the most demonstrative of all. We were now getting very short of rations and got served out to us a half pound on Indian Meal, which as I said before we made into porridge. After the mealies were served out, you would have supposed that you were in a farmyard, for imitation Bantam Cocks and cackling hens were all over the camp.
Our next move was to Johannesburg. All the time we stayed here, I was on guard over General Ian Hamilton's headquarters, so I got no time to see over the town.
On the 3rd of June we again set out for our goal - Pretoria. We were to try and get to the north of the town and cut off the Boers' retreat. The following day our guns shelled the hills around Pretoria until darkness set in. About 3pm an officer of the general staff on horseback rushed up to our Colonel with an order. We were immediately sent along with the Cornwalls to secure some hills away to our left front, as a few hundred Boers still clung to them. A few shots from the leading companies sent them all off on the run, ere we had reached the top of the hill. From our lofty position, to our great joy, Pretoria could be seen lying at our feet, some four miles distant.
The following morning (15th June) there was great animation throughout the ranks at the prospect of marching into the Capital of the Republic. We were advance guard and we knew we would have the honour of marching into the town at the head of the division. We could still hear the big guns booming away to our right. Troops were now closing in upon the town from all sides. When within two miles of Pretoria we were formed up in review order, and were told that Botha was coming out to make arrangements for the conclusion of the war.
But of course, as you all know, this was only one of the many Boer ruses to gain time, and, as Mr Labouchere truly said, on August 4th 1899 "the Boers are past masters in the art of gaining time". About 3 o'clock in the afternoon we got orders to march into the town. It was a splendid spectacle to see the whole division, 8 battalions of infantry (six or seven thousand strong) marching in line of sections of fours with fixed bayonets glittering in the sunshine.
As we entered the square the massed bands of the Guards struck up "The Boys of the old Brigade" Lord Roberts and his Staff were on horseback in front of the pedestal built for Kruger's Statue. On the other side of the square were the civilians, and the ladies amongst them by the varied and gaudy colours of their dresses added variegation to the magnificent scene. We marched through the principal streets until darkness set in and on reaching the outskirts of the town there we camped for the night amongst rocks and bushes. That night we were told that Lord Roberts had made us his bodyguard.
But anything good never lasts long, and on the 7th June at 2 o'clock in the afternoon, we were ordered to pack up and in twenty minutes we were again on the trek - to reinforce the troops at
Diamond Hill, but were too late to take any part in the fight. Next day we retired in the direction we had come and struck the line at Irene, 10 miles south of Pretoria, and thence marched on to Elandsfontien a junction on the Pretoria and Johannesburg line. Here we camped for about a month, and at this time of the year the cold on the Rand is intense. Often we had to keep on our great coats all day and go on stamping our feet to keep the circulation at normal point. We had no tents and when we awakened in the morning our blankets were often covered with a coating of snow. And this is South Africa!
Although we were not on the march every day, nevertheless we had a far more trying and irritating time. For want of a better name I may be allowed to call us the flying or breakdown squadron, for wherever our supremacy in the field was challenged there we were rushed to. Our first trip we proceeded by rail to Irene, and there camped for the night, returning the following day to our old quarters. But for what purpose we left I have never been able to ascertain.
A few days afterwards we were at the Vaal River. We travelled on coal trucks 50 in each. Packed like sardines in a box, we had neither room to sit or lie. It was a memorable trip! All the way down we jested with one another that we were just to fill in the last gap in the cordon that was drawing round the most astute of Boer Generals - De Wet. But after all the manoeuvres of the most brilliant of British Generals had failed the net was empty and De Wet had vanished into thin air. We again returned to Elandsfontien and in another two days we were in the coal trucks again and set off for Springs a coal mining district some 15 miles up a branch line. Next day we returned to our old camping ground.
Once more we proceeded by rail to Irene where we stayed for two or three days. On the 10th July we went by rail to Krugersdorp and camped for the night beside the station. Next day we moved off with the intention of marching back to Irene. We had along with us the Shropshire L.I., two fifteen pounder field guns, and 25 of the Imperial Yoemanry acting as scouts.
The Volunteers were advance guard and gun escort. We had not gone above ten miles, when we became aware that our movements were being watched and that we were already into a trap, for Boers could be seen galloping up and down both flanks. We got orders to extend to six paces and rush the nearest kopje. Barely had we done so when a shower of mauser bullets went screeching overhead. The Boers could be seen in great numbers flitting about amongst the higher kopjes about 1000 yards in front. We at once commenced firing, and kept up an intermittent storm of bullets on the kopje, now increasing in intensity when a living object was seen moving on the crest of the hills in front, now slackening; never ceasing altogether. The two field guns we brought along with us had only fired three shells apiece before 15 gunners out of 17 had fallen wounded. A brave attempt was made to get the guns under cover in which one officer lost his life and some of the men were wounded. Ultimately a rope was attached and they were dragged safely under cover. Evening drew on, and as it merged into night the firing gradually died away.
General Smith Dorien had come up and a group of officers were discussing in low murmurs the arrangements for retiring. Suddenly a wild cheer broke the stillness of the night - not a British cheer. Someone shouted the Boers were upon us. The Colonel gave orders to fix bayonets and give them a volley. There was a click-clock as the bayonets were pressed on to the rifle, and a hurried volley by the men along the crest of the kopjes. The Boers had mistaken our quietness for a sign that we had retired, and were creeping quietly up in the darkness on their hands and knees. But our sudden discharge of lead sent them flying back to seek the cover which they had left.
At ten o'clock we began to retire. A skeleton line of men were left to hold the ridge until the main body got safely away. It was intensely dark and very cold. The Brigade was in full retreat. Some men had their blankets round their shoulders and like black phantoms the long line of men pressed steadily forward - not all steady. Some would fall asleep and dash heavily with smothered blasphemy into their comrades in front, thus receiving a sudden check. What a march that was! We had taken a different route to the one we had come out by, as it was rumoured by our scouts that the Boers were hurrying up to waylay us. At 4am we arrived in camp just as dawn broke, and had fought and marched for 24 hours covering a distance of some 25 miles. There were three Volunteers wounded in the fight and two of them were mentioned in Lord Roberts' dispatches.
Regarding this fight I will quote the words of a correspondent "The Voluteer Company was in advance, and it appeared to the men of the brigade that they were about to be wiped out of the British Army. But they had no thought of surrender"
It was certain that, in this matter exact knowledge of our movements was communicated to the enemy outside Krugersdorp by Boers in the Town, using dogs as messengers. After this we had orders to shoot all dogs that passed our post in the night.
We were now aware that some big movement was to take place, for every train that came into Krugersdorp brought infantry, guns and cavalry.
On the 18th July we set out for Rustenburg, with a force of 5000 Cavalry, 3 brigades of infantry, 6 Batteries of field artillery all under Lord Methuen. Early in the morning our scouts came in contact with the enemy and for three days a running fight was kept up. On the 21st we forced our way through Oliphant's Nek near Rustenburg, completely routing the enemy with heavy loss, capturing 22 prisoners and a gun, thereby relieving the British garrison at that town, and effected a junction with Baden Powell on the other side of the Nile, where we camped over Sunday. This is the richest district of the Transvaal I have seen as regards vegetation and fruit. Everywhere round the camp orange trees were heavily laden with fruit, and the most of the time we camped here we almost lived on oranges. On the 23rd July we left Oliphants Nek and three days marching brought us to Bank Station near Krugersdorp. Here we were joined by the service section sent out to reinforce us.
On the 1st August we again visited Bank station and thence moved on to Fredericstadt. De Wet had now crossed the Vaal with Kitchener in hot pursuit, and the night before we reached this place he had torn up the railway and wrecked a train of provisions which was lying beside the line, a heap of ashes. One night while on outpost duty we were suddenly surprised by objects moving towards our post. The sentry challenged and asked the countersign. They shouted we have got no countersign so they were told to advance. One of them said he had been a prisoner with De Wet for about a week and had escaped that afternoon in the confusion that occurred when the British opened fire on the Boers. There were seven altogether so we sent them under escort to camp. On the 12th August Kitchener and the Colonial Division passed here and that same night we left with a convoy for the troops that were after De Wet. We returned next morning to camp and thence marched to Krugersdorp.
Leaving that town on 18th August we went to Pretoria and on the 25th reached Belfast on the Delagoa Bay railway. On arrival we were inspected by Lord Roberts who told us that the Rifle Brigade had lost heavily today but had driven the enemy out of a strong position, and were now retiring on Lydenburg. Buller had encountered serious opposition in the Badfontein rally on his way to Lydenburg and on 3rd September the 19th Brigade set out on a flanking movement with our old General, Ian Hamilton, in command. In the evening we came in touch with the Boers. Next morning, after we had formed for attack they hurriedly fired a few shots from a Long Tom and then suddenly disappeared. That night we camped on the top of a cold and bleak hill. With dawn and sunrise came a dense fog completely obscuring the Boer position and the plain below. The tops of the hills near at hand stood out above the mist like islands rising from the sea, and the weather was so palpably unfavourable for our advance that the whole force had to stand and wait until the fog had partially rolled away. We were despatched to guard the right flank, the deep boom of the naval guns (with Buller's force) could be heard away to our right. All day we strode on over high mountains and through deep recesses between the bastion hills, where the main body was sometimes lost to view. That night we camped in a beautiful valley rich in vegetation.
Next day we were gun escort with the rear guard. The enemy kept firing on our left flank all day. The Volunteer company got orders to secure a high hill on our left as mounted Boers were seen to be advancing towards it. We made a rush for the position, and were first. We could see the Boers half a mile away. Down men down! came the order and a ripple of fire crackled along the summit of the hill. For a moment the Boers returned the fire. Then they made a rush for a farmhouse.
We had to lie on top of the hill until all the troops and transports had got clear through the valley. That night we camped within two miles of General Buller's camp. In the morning we could see Lydenburg only about 6 miles distant.
At 10am we reached that town and found it clear of the enemy. But our scouts reported the Boers were in strong force on the Mauchberg Kopjes, commanding the town. We had to fall back about a mile and camped. While sitting chafing one another and congratulating ourselves on our short march, for dinner was being served out, and we were in a very peaceful frame of mind - inhaling the fragrant smells of cooked meat and looking forward to a good meal, suddenly and unexpectedly the boom of a gun made the men in camp start and stare in the direction from whence the sound came. A high whistling noise, like the escape of gas in the air, then a heavy thud upon the ground, an appalling crash, and a leap into the air of clods of earth, and whirring fragments of jagged iron, as the shell burst right amongst General Buller's convoy moving along the road. Another and another shell burst, while the men still stared at the first. The Boers meant business sure enough. The orderly men were being subjected to very unparliamentary language to hurry up and get dinner "served out" before a shell lighted in the camp kettle. Before dinner I had a bath in the river close by. A few minutes after I had left, a shell burst over the place and killed three of the Royal Irish, who were bathing. The Boers were firing at an estimated range of 7 miles. The Volunteers got order along with the company to pack up as we were both for naval gun escort. The Boers opened a heavy fire on us as we crossed the river along with the guns. The shrapnel spouted showers of lead high in the air as if from a "rose" right in our very midst, but all escaped unhurt. Night was coming on, but still the shells came tearing through the gloom from the Mauchberg Kopjes. About 8 o'clock in the darkness a shell came sailing overhead and with wonderful accuracy burst on our late camping ground.
It is a curious sensation to be shelled at night, to hear the projectiles whistling through the still night air from afar, the reverberating crash as the shell smashes into a boulder and bursts with a crimson and yellow glare in its immediate vicinity.
At dawn shelling recommenced and continued without intermission all day. General Buller's division attacked the right of the Boer position and Ian Hamilton the left, the Gordons in support, crowded for the present behind a sharp topped kopje. Orders came for the supports to advance, shells were singing overhead and falling at random with the well known earthly thump. Away we went up the yellow hillside, and down a steep and wooded slope and were lost for a time in a deep ravine. A little before sunset we crawled up on to the top of a high hill and came in touch with the Boers. We immediately opened fire and after the exchange of a few rifle shots they set off on the run, under cover of a heavy mist. That night we retired on Lydenburg and left Buller to pursue the flying Boers.
Three days marching brought us to Helvetia, and on the 13th September we crossed the Delagoa Bay line at Watervaal Onder, Kruger's summer residence. Here a number of our men had been held as prisoners, in an enclosure made of corrugated iron, with electric arc lamps all round it. We now struck across the high hills for Barberton.
So steep and rough was the road that it was necessary for us to carry our entire kit, on our backs, along with our two blankets and greatcoat, ropes were attached to the empty wagons, and guns, and about 12 men were detailed for each to help to drag them along.
From Barberton we marched along-side a winding tributary of the Komatie river. Seven times in one day we had to ford its waters, each time being immersed up to the thighs. That night we camped near Avoca, where we captured 43 locomotives and other rolling stock, all in good order.
Next day we moved on to Kaapmuiden junction, where we found a considerable quantity of flour stacked up in the Station. But the Boers had saturated it all over with paraffin to prevent us from using it. We are now in what they call the bush veldt, and at this time of the year it is intensely warm.
Under the sweltering sun with tunics off and shirt sleeves rolled up we toiled along, cutting sown trees and filling up deep ravines in order to make a safe passage for the following transport. On reaching Hector Spruit, in the Crocodile River we found 11 Boer guns of different calibre, and two 12-pounders of 2 Battery R.H.A. which were captured at Sannas Post.
Some 25 miles of bush veldt and not a drop of water lay between us and Komatie Poort. It was impossible to undertake this long march throughout the day under the burning sun. Yet it was imperative that we should go on. The General issued orders that every man was to see that his water bottle was full, as we were to start at sundown and cover the distance at one march. After a trying night's march we reached Komatie Poort a little after 12 o'clock.
Next day on the Selati branch line we found railway wagons extending for a distance of 8 miles.
On the 28th September we had a grand ceremonial parade in honour of the celebrations of the tirthdays of the King and Queen of Portugal which fall on the same day.
When the Boers fled over the borders into the Portugese territory, they left behind them a large quantity of ammunition. On a quiet and peaceful Sunday about 50 Gordons were detailed to bury or destroy this ammunition. Suddenly a Long Tom shell exploded in an instant some 30 men were thrown to the ground. Two were killed and 21 had wounds more or less dangerous in various parts of their bodies. There were five Volunteers amongst the wounded. I being on guard in the town had no part in this disastrous accident.
Here there were all kinds of wild beasts, monkeys and snakes everywhere, and the river was swarming with crocodiles. One night when on guard over the railway bridge that passes over the Komatie River, I was suddenly surprised to see a huge hippopotamus coming snorting along the river bank. I reported to the officer in command, but he would not allow us to fire at him, as he said we would alarm the whole camp and everyone would have to get up and stand to arms. A lion entered the camp one night, and so badly mauled a trooper that he afterwards died, and at the same time the animal carried off a native whose remains were found next morning.
We had now been at Komatie Poort for 14 days, when we received the joyful news that the war was practically over and that we were to be allowed to return home. For eight months we had fought and marched.
Leaving Komatie Poort on the 8th of October we journeyed to Pertoria. On the 25th October there was a grand review by Lord Roberts of all the Troops around Pretoria, and the Transvaal was officially proclaimed as a part of the British Empire.
A few days later we left Pretoria in charge of 13 Boer prisoners and arrived at Cape Town on November 7th. We had travelled all the way from Komatie Poort in open wagons and it had occupied about 14 days and we had covered 1260 miles.
We stayed at Cape Town for about a month, being engaged mounting guard over 4500 Boer prisoners at Greenpoint. On 12th December we were sent up country to Worcester, in order to prevent a general rising, and to oppose the advance of the Boers who had made a raid on Cape Colony.
I will now read to you what I think is the last message sent by our late Queen to the troops.
Worcester, 7th January 1901.
The following message from Her Majesty the Queen has been received by the General Commanding in Chief.
This day Her Majesty the Queen commands the Adjutant General to convey to the Militia, Yeomanry, Volunteers, and Colonial Forces who have served during the past year in South Africa, Mediterranean and elsewhere, her grateful appreciation of their signal services. Her Majesty has been glad to observe the testimony by General Officers to the endurable spirit by which all ranks have been animated, and also by the zeal and discipline which they have displayed.
The Queen deeply regrets the sickness and loss of life which has occurred, and highly values the sacrifices made by soldiers of all ranks, in these branches of the service in the cause of the Empire, despite personal inconvenience and pecuniary loss.
Her Majesty relies on those still employed abroad to contrive to use their best efforts in aid of the Regular Army, and trusts that the day may not be far distant when she may welcome their return home.
Signed, Evelyn Wood, Adjutant General.
At Worcester we stayed for four months and acted as a kind of police in the district around that town. We also collected all the rifles and ammunition held by farmers and others.
There was great joy in camp when we received the order to entrain for Cape Town, as we were to sail on Saturday 15th April. We could hardly believe that such luck was ours, as we had been deceived once before. However we set sail on the day mentioned on the S.S. Templemore, and arrived in England on the 5th May 1901, having been away for 1 year and 74 days.
I am now at the end of what I fear has been a somewhat lengthy narrative. But I am still of the opinion that, had our leaders not been so lenient with the Boers to begin with, my story would not have been so long.
"Tender handed, stroke a nettle
And it stings you for your pains;
Grasp it like a man of mettle
And it soft as silk remains.
'Tis the same with rugged natures;
Treat them kindly - they rebel;
Be as rough as nutmeg graters
And the rogues obey you well."